Description
This Colour Changing Bracelet Kit is part of Science2Life's 'Science It!' Programmes
Amaze your children or pupils with this magical colour changing bracelet kit and glow in the dark energy beads!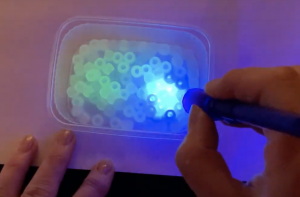 Kit contents
100 UV mixed colour changing / glow in the dark pony beads 8 mm x 6 mm
3 Scroubidou Strings (100 cm)
1 piece of soft cord (100 cm)
1 UV light pen
Small tub
Indoors they are coloured dull white but will change into coloured beads (green, yellow, pink, blue or purple) once you expose them to sunlight or ultraviolet (UV) light. 
Make them into bracelets or necklaces or use them on hair braids.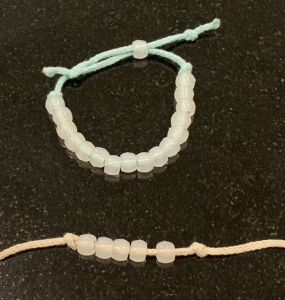 Please note: the colour brightness of the beads is dependent on the strength of the UV/sun light and therefore they may not change as well on overcast or dull days. 
Want more spy pens?
The beads can be used to demonstrate the effectiveness of UV protection in sunglasses, during sun cream experiments or in Science2Life's Mysterious Microbes Workshop.
Skin burning ultraviolet (UV) light can be revealed using these simple, white beads. Coat the beads with the sun screen you are using. If the beads change colour when exposed to UV light you will know the effectiveness of your sunscreen!
Change colour when exposed to sun or UV light
Comes with 2 threading strings so that you can start your jewellery making immediately!
Perfect for making bracelets, necklaces and other wearable craft items.
Adult supervision is always advised
Research companies use these beads for testing the effects of sun cream and whether it's able to protect skin from the UV rays. You can use them for research too!
They will change colour backwards and forwards many times. Test the ability of your sunglasses to block out ultraviolet light by covering a few beads with the lens of your sunglasses, if the beads do not change colour, your sunglasses block out harmful ultraviolet light from your eyes. If the beads change colour change your sun glasses!!
Test a variety of glass and plastic materials to determine which materials block out UV light.
This activity is a fun way to make sure your children are protected from the UV rays during the summer sun.
Continuous exposure to UV rays' overtime will compromise the colour changing properties. The contact of sunscreen products on the beads can also impact on the colour changing pigments of the beads.
Warning: Keep away from small children and pets – choking hazard.