Description
Mysterious Microbes Workshop
Organising a Festival Event? Supporting more than one school? Contact us to discuss discount options
Visualising the Invisible – Hands-on  investigations  plus  pre-recorded interactive  show  and  teacher  guidance with  Scientific Sue!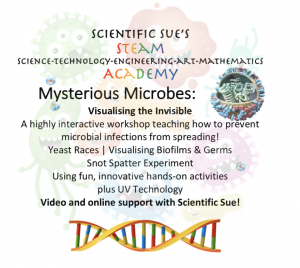 Our Mysterious Microbes Workshop has been designed to teach young people about microbes and how microbial infections are spread and can be prevented through improved hygiene.
An interactive virtual workshop suitable for children aged 6 – 13 years old.
The workshop consists of a 45-minute introductory show (requiring volunteers) by Scientific Sue which is followed by 2 (or possibly 3) science investigations.
Kit includes:
Teaching notes
Worksheets
Teacher guidance video – 27 minutes
Mysterious Microbes Science Show – pre-recorded video – volunteers required!
Yeast Race
Visualising Plaque
Visualising 'Germs'
Snot Spatter Experiment
500 ml Bottle x 3
Disclosing tablets x 10
Black box (flat packed)
Spray bottle with Glow in the dark paint
Sachets of active yeast x 3

Sachets of Sugar (varied) x 9

Toothbrush
Sticky backed velvro strips
Tissues
Digital Thermometer/Hygrometer
UV scanner
Mask
Glow in the dark powder
People templates x 4
Child's Farm hand lotion
AKTIVORA super sanitiser 100 ml

Selection of glow in the dark items (such as beads, stars, animals)
The activities include:
Handwashing training session using glow in the dark technology.
Snot-Spatter Investigation
Yeast Races
Use of disclosing tablets to visualise the biofilm we call plaque.
This programme introduces, in a fun and engaging manner, the different types of microbes which share our world with us.
The interactive activities cover the topics of:
Hand hygiene.
Dental plaque being a bacterial biofilm.
Yeast is a useful fungus.
Some microbes cause food poisoning.
The use of a mask or tissues help prevent the spread of harmful microbes.
Use of disinfectants help to protect humans from harmful microbes.
The learning objectives of the Mysterious Microbes Workshop are:
Know where microorganisms (microbes) fit into the 5 kingdoms of life.
Know what characteristics are used to determine if something is living or not.
Some microorganisms are living (such as bacteria) and some are not (such as viruses).
Only a few microbes are bad.
Microbes can sometimes cause illness and diseases.
The symptoms of illnesses (like sneezing) can lead to microbes being spread and other people getting infected.
Good hygiene can reduce the spread of microbes and so stop infections spreading.
The mysterious microbe session is virtually introduced by Scientific Sue via a 20-minute pre-recorded video introducing microbes 'The Good, the Bad and the Ugly!'
Even though this session is delivered remotely, via a pre-recorded video, there are opportunities for interactivity Sue will need some volunteers! She will ask for a volunteer, the video is paused, the activity carried out and when the volunteer/s have returned to their seats the video is restarted.
The 'How to Organise your Event' video guides the organiser through all sections of the interactive show and investigative workshop.
The virtual show section of this programme allows the children to:
Learn about bacteria, viruses and fungi.
Understand that some microbes are good for us and some are bad.
Discover how good microbes are used in the food industry.
Find out how disclosing tablets can be used to help us see the bacterial biofilm call dental plaque.
Discover how we use disinfectants to protect us against the bad microbes (which we call pathogens).
The hands-on workshop sections of this programme include:
Ultra Violet (UV) Germ Training
The Snot Spatter Experiment
The Yeast Race Experiment, started in the introductory session, can also be extended as a group investigation allowing opportunities to explore scientific processes such as fair testing in more depth.
DELIVERY
Links to the teacher guidance video will be sent on the day the workshop kit is despatched.
The link for the show video will be sent 2 days before your event to give you time to familiarise yourself with it. It will only remain live for the day of your event.
Shipment tracking ID will be provided after your item has been despatched.
The delivery date stated is indicative and subject to availability, payment authorisation, verification and processing.
In case your product(s) is not delivered due to an incorrect or invalid address, or other reason outside of our control, we will not be able to process any claims. However, we will notify you if it is returned to us.