Description
Great for young budding scientists who will find plenty of ways to test out its magnetic pull.
Horseshoe Magnet
Size 5cm x 4.5cm
Colour red
Like poles repel and opposite poles attract
This horseshoe magnet is a fun and educational toy which will allow your young wards to discover the attraction of magnets. With a retro design, this magnet will give your child hours of entertainment.
It is a good quality, sturdy item but as with all magnets the material it is made from is brittle so will break if allowed to drop on to a hard surface.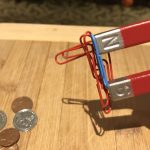 This horseshoe magnet is an Al-Ni-Co magnet. It is a permanent magnet which is primarily made up of a combination of aluminium, nickel and cobalt. Alnico is an acronym of iron alloys made up from Aluminium (Al) nickel (Ni) and cobalt (Co) hence the name Alnico.
Let's Go Fishing
Metal paperclips are pulled towards the magnet. Using this phenomenon we can make small sea creatures and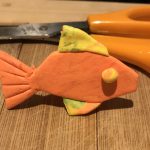 use a paperclip as the mouth.
I have used the rainbow foamy putty to make my fish – this is an air-drying material which is very light and perfect for using with this magnet. It can be rolled out and then cut or shaped into any design you may wish to pick up with the magnet – attach the paper clip to the outside, or push it in to your design.
Colour a paper plate blue, lay your fish shapes on it. tie some string around your magnet and attach the other end to a small stick or pencil. With 2 or more magnets this could be a challenge game!
I would love to see your creations – so please post them on my facebook page 
DELIVERY
Shipment tracking ID will be provided after your item has been despatched.
The delivery date stated is indicative and subject to availability, payment authorisation, verification and processing.
In case your product(s) is not delivered due to an incorrect or invalid address, or other reason outside of our control, we will not be able to process any claims. However, we will notify you if it is returned to us.
RETURNS
Return or exchange requests can be made within 10 days of the delivery date.
To return or exchange any items, please email us at scientificsue@science2life.com, clearly mentioning your order number and our customer support team will guide you on the process.
To be eligible for return, products must be in the exact condition you received them in. All packaging material must be undamaged and unused with the price tags intact.
Orders can be cancelled before dispatch. If the order has already been dispatched, cancellation fees might be charged.
Due to the nature of the products that we sell, we will not be able to replace or refund unwanted items if they have been opened or any seals are broken.
The refund will not include the import duties or the cost of delivery or return postage.
If your refund is approved, then it will automatically be credited to the original method of payment, within 7-10 days.
Science2Life reserves the right to alter and enforce this Return and Refund Policy at any time without having to serve a prior notice to users.