Description
Great for young budding scientists who will find plenty of ways to test out its magnetic pull.
Horseshoe Magnet
Size 5cm x 4.5cm
Colour red
Like poles repel and opposite poles attract
This horseshoe magnet is a fun, educational toy which will allow your young wards to discover the attraction of magnets. With a retro design, this magnet will give your child hours of entertainment.
It is a good quality, sturdy item but as with all magnets the material it is made from is brittle so will break if allowed to drop on to a hard surface.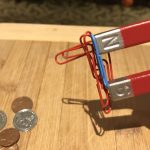 This horseshoe magnet is an Al-Ni-Co magnet. It is a permanent magnet which is primarily made up of a combination of aluminium, nickel and cobalt. Alnico is an acronym of iron alloys made up from Aluminium (Al) nickel (Ni) and cobalt (Co).
Let's Go Fishing
Metal paperclips are pulled towards the magnet. Using this phenomenon we can make small sea creatures and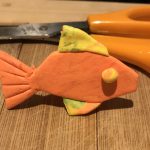 use a paperclip as the mouth.
I have used the rainbow foamy putty to make my fish – this is an air-drying material which is very light and perfect for using with this magnet. It can be rolled out and then cut or shaped into any design you may wish to pick up with the magnet – attach the paper clip to the outside, or push it in to your design.
Colour a paper plate blue, lay your fish shapes on it. tie some string around your magnet and attach the other end to a small stick or pencil. With 2 or more magnets this could be a challenge game!
I would love to see your creations – so please post them on my facebook page