Description
Click on and expand the video to see an alternative use for this snow grow powder!
Amazing Magic Snow granules that magically expand into white fluffy snow, a fantastic material for sensory play.
Add water and the powder turns into fake snow
Expands to 100 times its original volume
Spray with water to keep for several months
Leave to dry and reuse
1 x Magic Snow DIY Slushy Snowman
Ideal fun seasonal crafting for children!
Lovely stocking or party bag filler
Enjoy creating your very own Frosty The Snowman with this Magic Snow DIY Slushy Snowman Kit. Complete with magic white snow, stick arms, a bright orange carrot nose, eyes, mouth, buttons and black hat; this slushy snowman can be assembled in the comfort of your own home away from the cold.
Click on this link above for the full version of this and other spells: Potions and Explosions Spell Book 
SAFETY:
Not suitable for children under 4.
Children should always be supervised.
Magic Snow is very slippery when wet, so make sure any spillages are cleaned up immediately to prevent slipping accidents.
Do not dispose of down the sink; it may clog up the drain.
HOW DOES MAGIC SNOW WORK?
Add a small amount of Magic Snow on to the palm of your hand. Using the pipette squirt water onto the powder. Watch it magically grow in your hand!
Add 1 teaspoon (about 3 g) of Magic Snow powder into an empty clear beaker. Measure 30 ml of room temperature water into a second beaker. Quickly pour all of the water into the cup with the Magic Snow and watch the powder erupt into white fluffy snow!
Want coloured snow? Just add a few drops of food colouring to the water before pouring in onto the Magic Snow granules.
Want to build a snowman? Form the snow into snow balls or use the plastic 'snowman shaped' packaging.
Place in the freezer on a tray for an hour or more. You can now stack your snowballs on top of each other and then decorate them!
Want to make a snow fort? Create enough snow to fill an ice tray. Place in the freezer for an hour and you will have building blocks to make a frozen fort! If the blocks are stuck in the tray just run some warm water on the back of the tray to loosen them.
Science in a Nutshell
Magic Snow is an erupting polymer! Magic Snow is actually derived from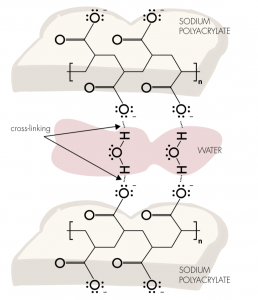 the superabsorbent polymer, sodium polyacrylate, found in baby nappies. The only difference (and it's a big one) is that the Magic Snow polymer not only absorbs water but the long chains of molecules swell to an enormous size.
The polymer soaks up water using the process of osmosis (water molecules pass through a barrier from one side to the other). When water comes in contact with the polymer, it moves from outside the polymer to the inside and causes it to swell. The polymer chains have an elastic quality however, they can only stretch only so far and hold just so much water.
The Magic Snow reaction is a great example of a physical reaction – a reaction where the substance itself does not change. When an ice cube melts, a physical reaction takes place where the solid ice turns into a liquid, but the substance (water) never changes – it's still water! However, in a chemical reaction, a new substance is formed and energy is either given off or absorbed.
If you think of the Magic Snow powder as millions of tiny sponges, it's easy to see that neither the Magic Snow powder or the water was changed. If you allow the water to evaporate, the Magic Snow powder dries out and returns to its previous state, ready to be used again.
Also, because of water's unique shape, it is capable of associating with two polymer chains. For this reason, two polymer chains surround each layer of water molecules, with each row of water molecules forming a bridge between the two chains. Imagine the polymer–water
complex as something of a molecular sandwich, where the polymer chains are the "bread" and the water molecules are the "jam." This ability of water to link between chains is called cross-linking, and it is what allows the polymer to absorb so much water.
What happens when you put some table salt on top of the snow?
Salt causes water to leak out of the sodium polyacrylate because it disrupts the attraction between water and the polymer chain. When salt is added, it breaks up into negative and positive ions, which are also attracted to the water molecules. In fact, each ion attracts several water molecules to it. Eventually, when enough salt is added, the water molecules become more attracted to the ions than the polymer chains, and water leaks out of the mixture.