Description
This amazing Energy Ball glows and emits cosmic sounds when both of its metal contacts are touched.
Contents: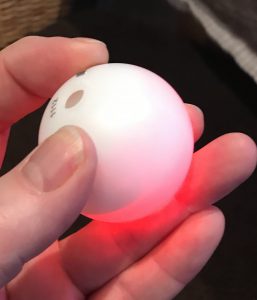 Energy Ball
Teaching notes
This cosmic energy ball is an excellent toy to aid the teaching of the principles of electricity and conductivity. By simply touching the energy ball's metal strips (electrodes), the ball becomes a mini light and sound show; it emits a red light and creates a buzzing sound.
Even though it is sold as a toy, this energy ball allows us to safely demonstrate conductivity, connectivity and electrical currents in an educational and fun way.
See the teaching notes to find out how you can determine which household items conduct electricity (are electrical  conductors) and which ones don't (are electrical insulators).
This gadget is used in The Magical Science and Engineering Show