Description
This gift is a must for inquisitive budding (and not so budding) scientists!
This handheld ultraviolet (UV) light scanner is usually used to check the validity of passports and bank notes. The lamps sheds UV light on the bank notes to reveal embedded safety features such as UV marks, metal thread or watermarks.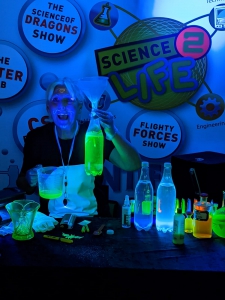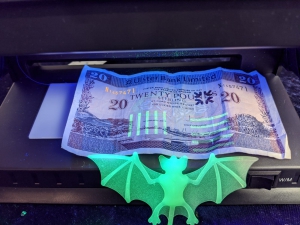 UV marks will glow when exposed to UV light, metal threads will shine out, and watermarks will be fully visible.
Ideal for festivals, events and mobile outlets
Shows hidden features with glow in UV light
Requires 4 x AA batteries (not supplied)
Includes a built in torch and carry handle
Suitable for most currencies
Passing Secrets
Any proper spy will find the need to pass secret information along to an ally securely. There are many techniques to do so – sometimes, they can be highly technical, such as an encrypted message, but other times simply hiding information just outside of plain sight can be very effective.
This handheld ultraviolet light scanner is the perfect gift for budding spies and is used in our Mysterious Microbes Workshop to help highlight the importance of hand-washing.
There are lots of everyday materials that fluoresce or glow when placed under a black light – a black light gives off highly energetic ultraviolet light. We can't see this part of the spectrum, which is how 'black' lights got their name.
Follow this link to find 16 things that glow under ultraviolet (black) light.
Fluorescent substances absorb the UV light and then re-emit it almost instantaneously. Some energy gets lost in the process, so the emitted light has a longer wavelength than the absorbed radiation, which makes this light visible and causes the material to appear to glow. Fluorescent molecules tend to have rigid structures and delocalised electrons.
Note: This product has been tested for reliability on most currencies and we are confident that it is effective. We cannot, however, be held liable for any loss or damage which result from using the product.