Description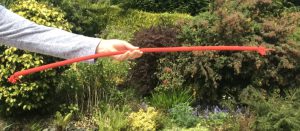 This magic rope is used in the famous Indian rope illusion
This magic rope is an ingenious piece of engineering. Held at one angle it looks and feels like an ordinary rope, but with a twist of the wrist the internal plastic connectors align and the rope stands rigid like a stick!
All you need is to hone your performance skills and you will be able to astonish your audiences.
Demonstrate it as an ordinary rope coiled over your hand.
Now stretch the magic rope out between two hands horizontally and pretend to hypnotise it.
Release one hand – Voila! – the rope stays horizontal like a stick. Use your free hand to hold it horizontal from the sticks middle.
Blow onto the rope and watch it fall down, limp again.
So long as you down tell anyone about the engineering you will be able to repeat this magic again and again!
No strings, no extra attachments – just amazing engineering.
It will bring you lots of fun.
This is a product for magicians.
90 cm long
Colour may vary