Description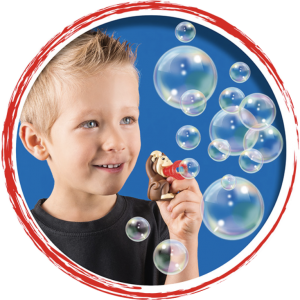 Our Safari Bubble Blowers are a Fantastic Science Gift
There are 5 safari bubble blowers and these animals need to get bubble food frequently. Fill the bubble liquid into the tray and dip the bubble ring into the liquid. After taking it out again squeeze the safari animal to get them to blow small bubbles. This is their way of saying thank you for feeding them.
Pustefix means soap bubbles in German and these Pustefix bubbles are hands down the best on the market. Pustefix got its start after World War II, when the company's namesake, Rolf Hein, a chemist and entrepreneur, experimented with soap-bubble mixtures until he hit upon the perfect solution. That blend, still used today, is non-toxic and bio-degradable – and results in gorgeous streams of shimmering, long-lasting bubbles.
These wonderful safari bubble blowers are used in our Science of Bubbles Show.
Warning!: Not suitable for children under 36 months – Contains small parts.