Description
Our Make Your Own Fossil Kit is part of Science2Life's 'Science It!' Programmes
Turn your children into little archaeologists with our Make Your Own Fossil Kit.
A complete learning activity – this mega dig kit includes everything you need to reconstruct how fossils are made and then discovered!
Ideal gift for any dinosaur fan!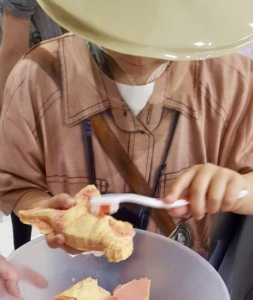 This kit contains:
Parasaurolophus Dinosaur puzzle
Parasaurolophus Dinosaur
Moulding foam
Tools
Toothbrush
64 g dental stone (enough to make 2 models)
Measuring cup
Build your dinosaur skeleton puzzle, bury it, mould it, then dig it!
Building this 3D puzzle stimulates logical thinking and special imagination.
Build your Parasaurolophus Dinosaur puzzle.
Gently push it into the foam mould using the wooden stick – this ensures no finger marks are made.
Carefully remove your dinosaur skeleton.
Carefully measure 10 ml of water and add it to 32 g (or 30 ml) of dental stone powder.
Mix until you have a smooth paste (a bit like a thick batter) – 30 seconds max.
Pour the paste into the mold – use the lollipop stick to smooth the surface.
Leave for 60 minutes.
Place your mould on a tray.
Carefully remove the outer layer of the foam with your fingers.
As you get closer to the skeleton you will then need to use the wooden stick.
The toothbrush is then used to brush away the foam that is found within the rib cage and other crevasses.
When completely dry paint your fossil!
Dental stone can be used to collect many kinds of impressions. Forensic scientists use it a lot to gather impressions of shoe prints and type tracks.
Dental stone emits heat while it hardens – so we can't use it for impressions made in snow!