Description
DINO DIG KIT
Make Your Own Fossil Kit!
Science2Life's Science iT! Activities take everyday life objects, toys and knick-knacks and turns them into fun, innovative science projects.
In this activity Scientific Sue uses the quick drying action of casting stone to help create 3D copies of your dinosaurs of choice.
Turn your children into little archaeologists with our DINO DIG Kit.
A complete learning activity – this mega dig kit includes everything you need to create and uncover your very own fossils!
Ideal gift for any dinosaur fan!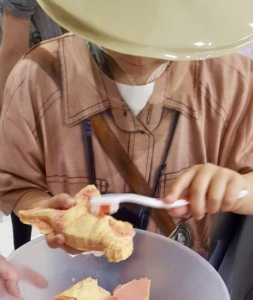 This kit contains:
Dinosaur puzzle
2 Dinosaur toys
Casting foam
Wooden Tools
Toothbrush
3 x 32 g casting stone (enough to make 3 models)
Measuring cup
Dinosaur box – to be coloured in
Build your dinosaur skeleton puzzle: bury it, cast it, then dig it!
Building this 3D puzzle stimulates logical thinking and special imagination.
Build your Dinosaur puzzle.
Gently push it into the foam mould using the wooden stick – this ensures no finger marks are made.
Carefully remove your dinosaur skeleton.
Carefully measure 10 ml of water and add it to 32 g (or 30 ml) of dental stone powder.
Mix until you have a smooth paste (a bit like a thick batter) – 30 seconds max.
Pour the paste into the mold – use the lollipop stick to smooth the surface.
Leave for 60 minutes.
Place your mould on a tray.
Carefully remove the outer layer of the foam with your fingers.
As you get closer to the skeleton you will then need to use the wooden stick.
The toothbrush is then used to brush away the foam that is found within the rib cage and other crevasses.
When completely dry paint your fossil!
Casting stone can be used to collect many kinds of impressions. Forensic scientists use it a lot to gather impressions of shoe prints and type tracks.
Casting stone emits a little bit of heat while it hardens – so we can't use it for impressions made in snow!
Science2Life's Science iT! activities and programmes
Children love to be engaged in learning, especially through interactive projects that they can really get involved and be hands on with.
Science2Life's Science iT! activities and programmes are part of our STEAM Academy. The activities use everyday life objects, toys and knick-knacks and turns them into fun, innovative, hands-on experiences designed to encourage children to:
discover the amazing world of science and engineering
to perform engaging activities that show how science and engineering is at work in their everyday lives
to foster a lifelong love of science and engineering
to give a basic grounding in scientific concepts and scientific thinking
to increase children's motivation to learn and
enhance their perception, creativity and logic.
Hands-on learning is learning by doing.
Children involved in our 'Science iT!' activities and programmes are introduced to various STEAM learning methods and activities. Our creative programmes involve learning activities that require active thinking and experimenting to find out how things work. We all know how curious children are about the world around them and how they love using the word 'why?'
The aim of our activities is to provide optimal learning opportunities that strategically help children grasp mathematics, engineering and science concepts.
With the inclusion of the arts component into STEM it makes it more fun to learn, and more approachable to children.
Art education allows children to learn things in a more open-ended way and make them applicable to real life.
Links to the curriculum
All of Science2Life activities can be used to entertain children – however they have been created with the curriculum in mind, so are perfect activities to generate mesmerizing examples of the topics they can be used to explore.
Plus our Science iT! activities can up scaled-up to be used in workshops within the classroom, for festival and birthday celebrations, which provide opportunities for children to collaborate on initiatives, explorations and creations.
The idea behind our Science iT! activities is to ignite children's natural innate curiosity about the world around them (and the items in it) and to channel their enthusiasm for scientific discovery as early as possible.
Currently Science2Life have the following Science iT! activities:
Each of the above activities can be turned into a workshop programme! Interested? Give us a call!
Scientificsue@science2life.com
+447970884728
Note: All of Science2Life's STEAM ACADEMY shows and workshops are designed to not only motivate and fire the spirit of discovery within your children but also ignite curiosity in their minds.
For more information on our shows visit our website: https://www.science2life.com