Description
Welcome to Science2Life's STEAM Academy
Support for Bubbleology Workshop 2
These are the additional items required for you to increase the numbers of children taking part in the GIANT BUBBLE CHALLENGE by a factor of 6. 
Contents
6 x Tubs of bubbles with wands
6 x Sachets of Giant Bubble Mix
6 x Sachets of pH adjuster
6 x instruction cards
6 x Cotton strings and weights
12 x Sticks for bubble wands
12 x Cable ties
INNOVATIVE    

IMAGINATIVE

   

CREATIVE
Want the live options – in person on online? Contact us.
Birthdays, Weddings, STEM Events  – in fact this wow-factor outdoor activity is perfect for any one wanting a fun educational celebration session!
See below find out the cost per child for all buying options:
Number of Participants 

---

Cost / Child

---

Total Cost

---

6
£17.50
£105
12
£10.83
£130
18
£8.61
£155
24
£7.50
£180
30
£6.83
£205
36
£6.39
£230

---

---

---
The Bubbleology Workshop 2 Kit contains a range of traditional and modern bubble toys and chemicals all of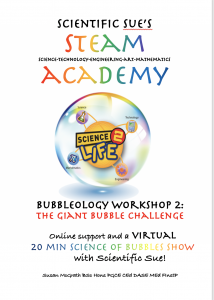 which offer great STEM (Science, Technology, Engineering and Mathematics) teaching and learning possibilities; plus, they will help you and your young Bubbleologists make a range of amazing bubbles.
It also does with a 27 page guidance booklet, online support for organisers of the event plus a 20 minute Science of Bubbles Show with Scientific Sue!
Bubbles hold many wonders and create lots of excitement, and investigating the science methods behind the creation of different bubble solutions is sure to fascinate young minds and help them think like a scientist.
All of our STEAM ACADEMY workshops are designed to not only motivate and fire the spirit of discovery with our children but also ignite curiosity in their minds.
Each child leaves with a tub of bubbles, their own tri-string bubble wand, a sachet of giant bubble polymer and pH adjuster to make 2 L of bubble solution which will allow them to make amazing bubbles with the rest of their family and friends!
Safety: It is recommended that all young children should wear safety goggles when playing with bubbles to prevent any soap splashes going into their eyes.
What to do:
Eyes:  Rinse eyes with lukewarm water with one of the following methods:
Pour a gentle stream of water from a jug or clean teapot over the eye from the inside corner by the nose, across the eye, flowing out towards the ear.
Eye may be irrigated in the shower if this can be accomplished without delay.
Young children may be wrapped like a mummy in a towel with arms at side and held over sink or tub or laid on counter during flushing.
DELIVERY
Shipment tracking ID will be provided after your item has been despatched.
The delivery date stated is indicative and subject to availability, payment authorisation, verification and processing.
In case your product(s) is not delivered due to an incorrect or invalid address, or other reason outside of our control, we will not be able to process any claims. However, we will notify you if it is returned to us.
RETURNS
Return or exchange requests can be made within 10 days of the delivery date.
To return or exchange any items, please email us at scientificsue@science2life.com, clearly mentioning your order number and our customer support team will guide you on the process.
To be eligible for return, products must be in the exact condition you received them in. All packaging material must be undamaged and unused with the price tags intact.
Orders can be cancelled before dispatch. If the order has already been dispatched, cancellation fees might be charged.
Due to the nature of the products that we sell, we will not be able to replace or refund unwanted items if they have been opened or any seals are broken.
The refund will not include the import duties or the cost of delivery or return postage.
If your refund is approved, then it will automatically be credited to the original method of payment, within 7-10 days.
Science2Life reserves the right to alter and enforce this Return and Refund Policy at any time without having to serve a prior notice to users.