Description
Toy binoculars for young children who love exploring and nature.
Peek into the distance with this pair of binoculars that are adjustable to suit a variety of eye spans. This is an essential piece of equipment for all little adventurers, explorers and spies that is compact enough to fit in their bag.
Reverse them and turn them into a microscope!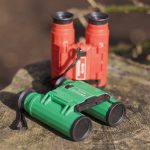 Children who love adventures and nature will love having their very own pocket binoculars to take out on expeditions. A neck strap is included so little explorers can always keep them handy.
With 4x magnification
Compact binoculars for young children
Adjustable hinged scope
Neck strap
11 cm long
Arrives in either red or green.