Description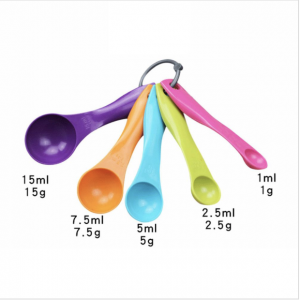 Colourful Measuring Spoons – 5 pieces
This plastic, colourful measuring spoons set consists of 1/2.5/5/7.5/15ml spoons
Everything you need to accurately measure out flour, sugar, spices, herbs and lots more
Includes five measuring spoons – with a quarter tsp (1 ml, 1 g), half a tsp (2.5 ml, 2.5 g), one tsp (5 ml, 5 g), half a tbsp (7.5 ml, 7.5 g) and one tbsp (15 ml, 15 g)
Easy to read markings, with millilitre (ml) and gram (g) equivalents
Colour coded and stain resistant, safe to use with the strongest of spices
Volume
Water, milk, flour, sugar, oil and many more consumables in the kitchen can be measured using:
teaspoons
tablespoons
cups
fluid ounces
millilitres
pints
litres
Some are metric units and others are US standard measurements. The conversion of cooking measurements is a great way for your children to learn to measure. However going through the process of cooking is a fun hands-0n way to not only learn maths but all gain a whole range of skills and cover a wide range of curriculum topics such as:
Emotional and social development
Language skills
Science
Art
Motor skills and physical development
Social studies
Mathematics
Hygiene
SI Units
Scientists never just grab handfuls of chemicals and toss them together. Accurate, precise measurement is a fundamental component of good science. To standardise measurements across all scientific disciplines scientists developed the International System of Units, known as SI Units. Even with a standardised system, there is room for uncertainty in the laboratory. Minimising this uncertainty ensures proper understanding of a process or experiment.
Scientific measurements use units to quantify and describe the magnitude of something.
There are many different units for the measure of length: inches, feet, centimetres, etc.
Using common units, scientists from different countries and cultures can easily interpret each others' results.
The current list of SI units are: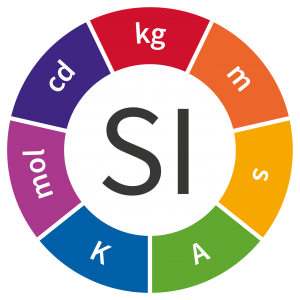 Metres (m) for length
Litres (L) for volume
Kilograms (kg) for mass
Seconds (s) for time
Kelvin (K) for temperature
Ampere (A) for electrical current
Mole (mol) for amount of substance, and
Candela (cd) for luminous intensity.
Rough Equivalent Volumes
ml: millilitres, tsp: teaspoon, Tbs: tablespoon, fl oz: fluid ounces
These are not all exact, but close enough for cooking:
| | | | | | | |
| --- | --- | --- | --- | --- | --- | --- |
| ml | tsp | Tbs | cups | fl oz | pints | quarts |
| 5 ml | 1 tsp | | | | | |
| 15 ml | 3 tsp | 1 Tbs | | | | |
| 30 ml | 6 tsp | 2 Tbs | 1/8 cup | 1 fl oz | | |
| 60 ml | | 4 Tbs | 1/4 cup | 2 fl oz | | |
| 120 ml | | 8 Tbs | 1/2 cup | 4 fl oz | | |
| 250 ml | | 16 Tbs | 1 cup | 8 fl oz | | |
| 500 ml | | | 2 cups | 16 fl oz | 1 pint | |
| 1 litre | | | 4 cups | 32 fl oz | 2 pints | 1 quart |
| 2 litres | | | | | 4 pints | 2 quarts |