Description
Great introduction to music! Fill the flutes with water to create a variety of musical notes to play.
These real musical instruments can be tuned by filling them to different levels with water to create a variety of songs and sounds. Excellent entertainment for young children at bath time! Filling the clear tubes with varying quantities of water produces different notes. Brightly coloured and containing song sheets to follow, the Water Flutes even float on the water so they aren't lost in the bottom of the tub.
These real musical instruments can be tuned by filling them to different levels with water to create a variety of songs and sounds. Start out with a simple slide whistle, practise songs with an easy to follow, colour-coded music sheet.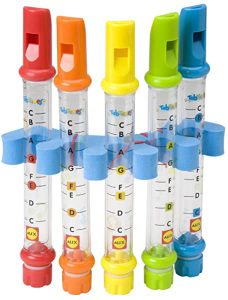 Durable and easy to clean
Add water to create notes
Includes 5 water flutes
Includes 5 song sheets to follow
Floats on water
How the Water Flutes work
When playing any musical instrument that is a 'closed-end air column', such as these water flutes, the pitch of the note that is made depends on the length of the air column.
The pitch of the sound we hear depends on the frequency of the sound wave that can be created within the flute's air. The shorter the air column the higher the frequency and the higher the perceived pitch.
Children Water Flutes Musical Instrument Bath-time Toys Fun Bath Tub Tunes Waterproof Song Sheets
Create your own melody with these water flutes, experiment with music and learn to play songs during bath-time.
DELIVERY
Shipment tracking ID will be provided after your item has been despatched.
The delivery date stated is indicative and subject to availability, payment authorisation, verification and processing.
In case your product(s) is not delivered due to an incorrect or invalid address, or other reason outside of our control, we will not be able to process any claims. However, we will notify you if it is returned to us.
RETURNS
Return or exchange requests can be made within 10 days of the delivery date.
To return or exchange any items, please email us at scientificsue@science2life.com, clearly mentioning your order number and our customer support team will guide you on the process.
To be eligible for return, products must be in the exact condition you received them in. All packaging material must be undamaged and unused with the price tags intact.
Orders can be cancelled before dispatch. If the order has already been dispatched, cancellation fees might be charged.
Due to the nature of the products that we sell, we will not be able to replace or refund unwanted items if they have been opened or any seals are broken.
The refund will not include the import duties or the cost of delivery or return postage.
If your refund is approved, then it will automatically be credited to the original method of payment, within 7-10 days.
Science2Life reserves the right to alter and enforce this Return and Refund Policy at any time without having to serve a prior notice to users.