Description
A lovely wooden pull back dinosaur car that drives forwards due to an internal clockwork motor.
This toy links with Scientific Sue's The Scientific Dilemmas of Dippy the Dinosaur.
These are beautifully detailed, fun and colourful wooden pull back dinosaur cars. Made with good quality wood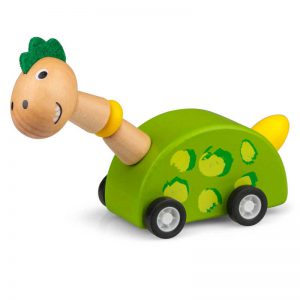 and painted with non-toxic paint. This is a must have toy in your bag when travelling and going about with young ones. These toys promote fine motor skills, hand and eye co ordinations as they pull back the cars and see where the cars end up.
Simply pull the character backwards across a smooth surface, then release and watch it race off into the distance. Available in three dino designs.
Wooden pull back and go toy
Clockwork motor powers wheels
Pull back and release to activate
Three dinosaur designs: Stegosaurus, Brachiosaurus & Triceratops
5cm
HOW IT WORKS:
This is a fantastic video explaining the physics behind this lovely wooden pull back dinosaurs that drive forwards with a clockwork motor.
Some Stegosaurus Facts
Stegosaurs lived about 150 million years ago in the Late Jurassic/Early Cretaceous Period. The first fossil was discovered by Professor Othniel Marsh in 1877. The large, bony plates he found on its back reminded him of roof tiles – so the name he gave it means 'roofed lizard'.
You pronounce their name 'steg-uh-sawr-us'.
The meaning of Stegosaurus is 'roofed lizard'.
Stegosaurus had brains the size of ping pong balls.
Their length was up to 9 metres.
They were 4 metres tall.
They weighed 2 tonnes the same as a fully grown Bull.
DELIVERY
Shipment tracking ID will be provided after your item has been despatched.
The delivery date stated is indicative and subject to availability, payment authorisation, verification and processing.
In case your product(s) is not delivered due to an incorrect or invalid address, or other reason outside of our control, we will not be able to process any claims. However, we will notify you if it is returned to us.
RETURNS
Return or exchange requests can be made within 10 days of the delivery date.
To return or exchange any items, please email us at scientificsue@science2life.com, clearly mentioning your order number and our customer support team will guide you on the process.
To be eligible for return, products must be in the exact condition you received them in. All packaging material must be undamaged and unused with the price tags intact.
Orders can be cancelled before dispatch. If the order has already been dispatched, cancellation fees might be charged.
Due to the nature of the products that we sell, we will not be able to replace or refund unwanted items if they have been opened or any seals are broken.
The refund will not include the import duties or the cost of delivery or return postage.
If your refund is approved, then it will automatically be credited to the original method of payment, within 7-10 days.
Science2Life reserves the right to alter and enforce this Return and Refund Policy at any time without having to serve a prior notice to users.