Description
PLASTIC GRADUATED MEASURING CYLINDER 10 ml
This translucent measuring cylinder is perfect for primary science experiments.
Moulded graduations in 0.2 ml divisions from 1 ml to 10 ml
Numbered graduations: 2 ml, 4 ml, 6 ml, 8 ml, 10 ml
Hexagonal base
Pouring spout
Hard wearing plastic – polypropylene
Dishwasher safe
Ideal for use as a prop in Harry Potter or Breaking Bad themed parties!
If you look at a 10 ml graduated cylinder, for example, the smallest graduation is  2 tenths of a milliliter (0.2 ml). That means when you read the volume, you can estimate to the hundredths place (0.02 ml). Use the bottom of the meniscus to determine the volume in the 10 ml graduated cylinder.
A meniscus is a curve formed on the upper surface of a liquid inside a container. This curve is formed by the surface tension between the liquid and the container holding the liquid. If the molecules in the liquid are more attracted to the sides of the container than to each other, the liquid will stick to the sides of the container. When this happens, the meniscus curve bends down and is called concave. Most liquids form this kind of meniscus. Water is a common example of a liquid that forms a concave meniscus.
SI Units
Scientists never just grab handfuls of chemicals and toss them together. Accurate, precise measurement is a fundamental component of good science. To standardise measurements across all scientific disciplines scientists developed the International System of Units, known as SI Units. Even with a standardised system, there is room for uncertainty in the laboratory. Minimising this uncertainty ensures proper understanding of a process or experiment.
Scientific measurements use units to quantify and describe the magnitude of something.
There are many different units for the measure of length: inches, feet, centimetres, etc.
Using common units, scientists from different countries and cultures can easily interpret each others' results.
The current list of SI units are: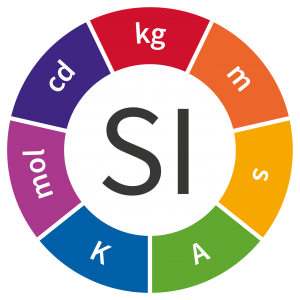 Metres (m) for length
Litres (L) for volume
Kilograms (kg) for mass
Seconds (s) for time
Kelvin (K) for temperature
Ampere (A) for electrical current
Mole (mol) for amount of substance, and
Candela (cd) for luminous intensity.