Description
Open the pot to enjoy the tactile experience of this colourful sensory product. Squeeze it, twist it, smash it, roll it, cut it,  mix it and then use your imagination to create amazing science and art projects with it!
A super soft, stretchy material which is a great stress and anxiety reducer!
Why not add beads, buttons or glitter to your creations?
Product Description
Tub of colourful putty arranged in layers to represent a rainbow. The soft putty is almost foam-like in texture, and can be stretched, squished, rolled and moulded into a variety of shapes. Separate the colours out or blend them together to create a range of new and vibrant colours.
Tub of putty with multiple colours
Arranged in layers like a rainbow
Soft and almost foam-like texture
Blue, green, yellow, orange and red colours
10cm tall
How to soften air drying clay which has become hard and stiff:
Poke a few holes with a knife into the clay to make some holes.
Place the clay into a zip lock bag.
Add a small amount of water to the bag and leave for a day.
You will now have soft clay again.
Note to stop unused clay from going hard in the first instance, wrap it in cling film until you are ready to use it again.
Some Science
The activities we can do with this mouldable material is only limited by our own imagination.
Why not set a family challenge to see who can shape a floating boat, using the smallest amount of clay which will carry a certain mass without sinking.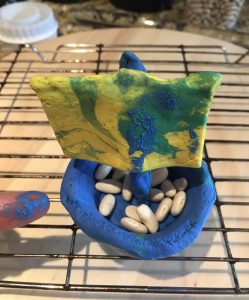 Use a kebab stick, paper, sellotape to add a sail to you boat. You can then carryout experiments to find the best way to make it move across the water – bath, paddling pool or trough – start maybe with a straw.
To make my boat I pulled and folded my putty and then formed it into a ball. I then used pushing forces on a roller to flatten it and then cut a circle shape using a large cookie cutter. Placing a smaller cutter in the middle I folded the sides upwards to form the boat shape. Then left it to dry overnight.
In water the dried putty will then become soft again. When you lift it out of the water you may find clay on your hands. This is easliy removed with a cloth or by washing your hands. To dry my boat I placed it on my grill grate.
For ideas on building boats to race on water check out the Scouts Regatta Races.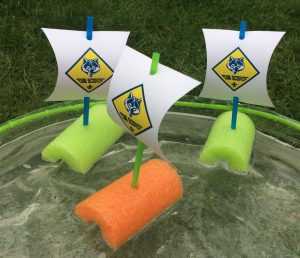 DELIVERY
Shipment tracking ID will be provided after your item has been despatched.
The delivery date stated is indicative and subject to availability, payment authorisation, verification and processing.
In case your product(s) is not delivered due to an incorrect or invalid address, or other reason outside of our control, we will not be able to process any claims. However, we will notify you if it is returned to us.
RETURNS
Return or exchange requests can be made within 10 days of the delivery date.
To return or exchange any items, please email us at scientificsue@science2life.com, clearly mentioning your order number and our customer support team will guide you on the process.
To be eligible for return, products must be in the exact condition you received them in. All packaging material must be undamaged and unused with the price tags intact.
Orders can be cancelled before dispatch. If the order has already been dispatched, cancellation fees might be charged.
Due to the nature of the products that we sell, we will not be able to replace or refund unwanted items if they have been opened or any seals are broken.
The refund will not include the import duties or the cost of delivery or return postage.
If your refund is approved, then it will automatically be credited to the original method of payment, within 7-10 days.
Science2Life reserves the right to alter and enforce this Return and Refund Policy at any time without having to serve a prior notice to users.