Description
Crash 'n' Flash Alien ball that lights up as it bounces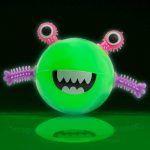 Light-up ball with stretchy alien features. When bounced the ball lights up and flashes. The ball has a cheeky grin along with flexible arms and eyes that wobble as the ball moves or can be stretched when handled. Available in four colours.
Light-up bouncy ball
Shaped like an alien
Stretchy, wobbly arms and eyes
Available in four colours – 1 supplied
Batteries included
11.5cm
A little bit of Science
This is a lovely toy with which to start introducing the concepts of forces and energy.
The eyes and arms can be pulled and stretched – storing strain potential energy – they quickly go back to their original shape when the pulling force is removed.
It can be lifted upwards, against the pulling force of gravity – gaining gravitation potential energy. When release this energy is transferred into moving (kinetic) energy.
The force of impact activates the electronics within the toy and it flashes for just over 10 seconds – how good are your reflexes? Use the stopwatch on your phone to find out exactly how long it flashes for!
DELIVERY
Shipment tracking ID will be provided after your item has been despatched.
The delivery date stated is indicative and subject to availability, payment authorisation, verification and processing.
In case your product(s) is not delivered due to an incorrect or invalid address, or other reason outside of our control, we will not be able to process any claims. However, we will notify you if it is returned to us.
RETURNS
Return or exchange requests can be made within 10 days of the delivery date.
To return or exchange any items, please email us at scientificsue@science2life.com, clearly mentioning your order number and our customer support team will guide you on the process.
To be eligible for return, products must be in the exact condition you received them in. All packaging material must be undamaged and unused with the price tags intact.
Orders can be cancelled before dispatch. If the order has already been dispatched, cancellation fees might be charged.
Due to the nature of the products that we sell, we will not be able to replace or refund unwanted items if they have been opened or any seals are broken.
The refund will not include the import duties or the cost of delivery or return postage.
If your refund is approved, then it will automatically be credited to the original method of payment, within 7-10 days.
Science2Life reserves the right to alter and enforce this Return and Refund Policy at any time without having to serve a prior notice to users.