Description
Crash 'n' Flash Alien ball that lights up as it bounces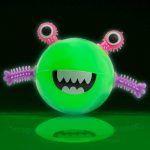 Light-up ball with stretchy alien features. When bounced the ball lights up and flashes. The ball has a cheeky grin along with flexible arms and eyes that wobble as the ball moves or can be stretched when handled. Available in four colours.
Light-up bouncy ball
Shaped like an alien
Stretchy, wobbly arms and eyes
Available in four colours – 1 supplied
Batteries included
11.5cm
A little bit of Science
This is a lovely toy with which to start introducing the concepts of forces and energy.
The eyes and arms can be pulled and stretched – storing strain potential energy – they quickly go back to their original shape when the pulling force is removed.
It can be lifted upwards, against the pulling force of gravity – gaining gravitation potential energy. When release this energy is transferred into moving (kinetic) energy.
The force of impact activates the electronics within the toy and it flashes for just over 10 seconds – how good are your reflexes? Use the stopwatch on your phone to find out exactly how long it flashes for!