Description
Back to school? Back to work? Looking for a product that completely destroys pathogens (microorganisms which are harmful to humans)?
Look no Further!
This box contains:
1 Litre of Super Sanitiser for hands and surfaces – including clothes
4 x  reusable 100 ml spray bottles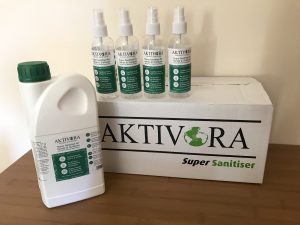 AKTIVORA has achieved a log 5+ kit rate (against bacteria) and above (99.999%) – this means it is 10 000 more effective than washing your hands with antibacterial soaps; 1 000 x more effective than other sanitisers with labels marking kill rate as 99.9% – 

It's all about the maths!
AKTIVORA is a cleaner-sanitiser which conforms to British Standards EN1650, EN14476 and EN1276. This product can give you the reassurance and peace of mind that you, your loved ones, your home or workplace is as safe as possible in the battle against harmful pathogens.
Aktivora contains

NO Alcohol

, so concerns about flammability are removed. It is safe to use on skin and can be used to disinfect all types of surfaces to establish hygiene and infection control measures to help protect everyone by reducing cross-contamination.
10 reasons to use AKTIVORA in your 'Keeping My Family' safe programme:
Clinically proven to be effective against Coronavirus (covid-19)
Safe to use on skin.
Enhances the efficacy and longevity of the disinfection processes due to the polymer chemistry used in the carrier liquid.
Gives protection for up to 24 hours.
Contains no alcohol.
Has achieved a Log5+ kill rates (99.999% and above) on bacteria
Utilises renewable plant extracts as key ingredients.
Is pH neutral.
Is environmentally friendly and biodegradable
How does AKTIVORA work?
AKTIVORA combines a unique system of chemistry and physics that works in reverse to the current and existing cleaning/disinfecting technologies.
AKTIVORA has "Seek and Destroy" molecules   penetrate and break a part biofilm and dismantle the cell walls of germs, at the same time, dehydrating them so they effectively "implode" therefore, building a resistance to this technology is impossible!
AKTIVORA penetrates up to 10 times more efficiently than conventional cleaners and disinfectants and therefore delivers Unrivalled and Superior performance in kill rate efficiency and cleaning power, with log kills up to 99.999%
AKTIVORA provides a super strong ionic electrostatic (positive charge) that coats and protects treated surfaces from further contamination of germs, dirt, algae and surface soiling for prolonged periods. This protective barrier also prevents bacteria from feeding and breeding by cutting off the food source, at the same time the electrostatic effect also disrupts and kills germs. It is also accumulative, meaning, the more you use it, the stronger the protection, as any broken surface matrix will "heal itself" and therefore you need apply significantly less for every application thereafter as the previous coating is still active.
Other benefits for Aktivora
Destroys insect infestations by breaking down the exoskeleton and dehydrating them.
Destroys black mold and green algae with outstanding long-lasting effects.
Destroys odours, unlike other products that mask smells with other scents.
Is more environmentally friendly and safer to humans and animals.
Is suitable for all market sectors across the board.
Reduces stock cost and level requirement and storage space.
Is safer to use than conventional and more aggressive cleaners and disinfectants.
Uses alternative organic and renewable plant-based products as much as possible